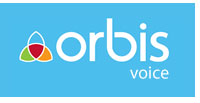 Orbis Voice was created to allow small to medium sized businesses to benefit from the advantages of Voice Over IP (VOIP) services and a full featured phone system that are typically enjoyed by much larger enterprise organizations.
With Orbis Voice, you can have high quality digital voice service and powerful business-class phone system features at a significantly reduced total cost of ownership. Our enterprise class PBX is hosted in multiple, redundant datacenters, providing a reliable, scalable voice solution and removing the need for installation of expensive equipment in your office phone closet.
Visit www.OrbisVoice.com to learn more!