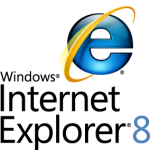 Internet Explorer 8 Release Candidate 1 Now Available for Download
Today, Microsoft has made their first release candidate available for Internet Explorer 8. IE8 is the best browser offering that Microsoft has released to date, and has been shown to be faster, easier to use, and more secure than later versions of the program.
Windows XP users can click here to download, and Windows Vista users can click here. The links also give more information about the program and brief download instructions.