It was almost a year ago that somebody smashed the passenger side window of my car and stole my messenger bag which contained, among other things, my month old iPad. I was parked right outside the Trader Joe's on 22nd Street where there were plenty of people walking around (it was 6:30pm). There was even a guy from Trader Joe's directing traffic around their parking lot. Yet nobody saw or heard anything. And of course there weren't any security cameras monitoring the area where I was parked. I was pissed. My Trader Giotto's Tomato Basil Marinara sauce never tasted so bitter.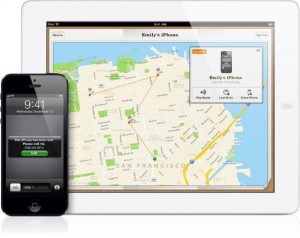 But I was most angry at myself for not setting up Find My iPhone. Had I taken a few minutes to set this up, I would have at least had a fighting chance to recover my iPad. So if you've got an iPhone, iPad, iPod touch or Mac make sure you enable Find My iPhone, which will help you locate your device on a map, play a sound, display a message, remotely lock your device, or even erase all the data on it.
In order to setup Find My iPhone, you'll need to first setup iCloud on your device. This can be done by tapping the Settings icon on the Home screen, selecting iCloud, and entering your Apple ID. You can use the same one you use for iTunes or setup a new account. (detailed instructions here) Once iCloud is setup, make sure Find My iPhone is set to On.
Now, if your device is ever lost or stolen, you can download the free Find My iPhone app on another iOS device. Then login using the same Apple ID you used to setup iCloud. If your device is online, it will locate it on a map and allow you to play a sound on the device (useful if you've misplaced your phone or iPad). If you're running iOS 6, you can enable Lost mode, which will allow you to enter a message that will be displayed on the device, a phone number where you can be reached, and a four digit passcode to remotely lock the device (if you already set a passcode on the device, it will be used). For even greater security, you can remotely erase all data on the device. If you get the device back, you restore your data from a backup (which conveniently can also be done through iCloud).
I have a new iPad now, and Find My iPhone was the first thing I setup. And if I'm ever craving Trader Ming's Pot Stickers, I make sure to lock my bag in the trunk.