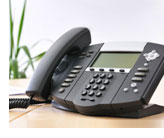 1. Business Class Features
VoIP based phone systems offer small and medium sized businesses features once available only to larger companies, such as:
Auto Attendants and Customizable Call Routing
Customizable hold music and commercial announcements
Voicemail to email/text message alerts
Web based control panel to make phone system changes
"Find Me" call routing – inbound calls can be configured to try multiple locations and devices to locate a specific end user
Conference Bridges – multiple on-site and outside callers can simultaneously participate in password protected conference calls
2. Flexibility
VoIP allows companies to seamlessly integrate remote offices and employees who are often on the go. As long as a high speed Internet connection is available, a user can simply plug their phone in to make and receive calls as if they were in the office.
3. Scalability
Adding new lines and extensions to your VoIP based system is far simpler than with traditional phone systems. There's no need to purchase and install expensive new equipment in your phone closet; in most cases it is as simple as buying another phone.
4. Ease of Installation and Maintenance
Unlike legacy phone systems, VoIP does not require the installation and ongoing maintenance of expensive equipment in your office phone closet. VoIP systems can utilize the network infrastructure already in place in an office setting, requiring only the purchase of new phones.  In some cases, your existing phone system can be connected to a VoIP network using a process known as SIP Trunking, allowing you to enjoy the cost savings and features associated with VoIP without replacing your existing equipment.
5. Cost Effective
Many VoIP plans include unlimited domestic calling and very competitive international calling rates. As mentioned, VoIP uses less physical hardware than traditional analog systems and require less replacement and repair.
Visit www.OrbisVoice.com to view the complete list of features that an Orbis Voice VoIP phone system can offer.