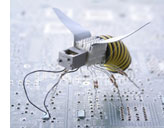 1. Anti-Virus Program
Remember that it is not enough to simply have an anti-virus program, it is important to make sure it is updated regularly and running scheduled scans on your computer. Many times you can set these tasks to run at a time when you are not working on your machine (like in the middle of the night). There are a number of quality programs out there and some are even free.
AVG 8.5 Free Edition – AVG has become one of the most trusted names in Anti-Virus software over the last couple years. This free edition of their software has most of the features one could want in an anti-virus program such as automatic updating and scheduled scanning.
2. Firewall
Odds are you are protected by a hardware firewall in your router at work or at home, but if you ever use your laptop in a coffee shop or an airport, it is imperative to have software protection as well. Firewalls control the communication in and out of your computer, allowing only traffic specified by you and thus protecting against unwanted attacks.
3. Malware removal
Try as we may to guard against it, infectious programs and files occasionally find a way on to our machines. There are a number of free tools available on the internet that aid in removing this malicious content. Like anti-virus software, it is good to be in the habit of keeping these programs up to date and running them on occasion. Two of the products that we recommend using are listed below, and you can download them both for free.
Malwarebytes Anti-Malware (Free) – Malwarebytes is a great full feature malware removal program. It was one of the first programs to successfully remove the pesky Antivirus 2008/2009 programs, and with databases being updated frequently it is able to stay on top of the new malware being released every day.
Spybot Search and Destroy (Free) – At Orbis we tend to use Spybot in conjunction with Malwarebytes. It is another great program for eliminating spyware and malware on your machine. It has been around for years and they continue to keep their databases current. Use it as a tool to keep your machine running smoothly.
4. Windows/Operating System Updates
Microsoft is constantly releasing Security Fixes for its operating system, as well as other updates designed to improve performance. Be sure that you have Automatic Updates configured on your machine and that you install them when needed. Again, this is something that can be easily done automatically when you are typically away from your machine.
5. Passwords
As we migrate more of our everyday lives onto our computers, almost everything is password protected. It is important to remember a few password do's and don'ts.
Do:
Use more than one password, it may be tempting to have one 'master' password for your life, but if anyone were to discover it, they would have control over your entire virtual self (bank accounts, social network sites, e-mail)
Make it hard to figure out. Devise a system for creating passwords for yourself, one that combines both letters and numbers. Use the street you grew up on and the last few digits of an old phone number eg: Juniper0283. You don't want to make it so hard you can't remember, but too easy for someone to guess.
Don't:
Write it down (or save it in a file on your desktop).
Tell it to anyone, no matter how close of a friend/relative they may be. If you do find yourself in a position where you have given it away, be sure and change it immediately.
Use 'Auto-Complete' features for important accounts. Our internet browsers are always trying to offer a hand by offering to remember our login information, but if your computer was ever stolen, access to your accounts goes with it.