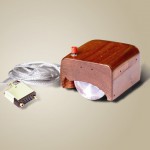 That 40 years ago today (December 9) the personal computer, as we have come to know it, was invented?
Douglas Engelbart along with a team of researchers from Stanford University introduced the world to "the mouse" at a computer conference in San Francisco.
The prototype was in fact made of wood and had only one button on top (pictured here). Read more about the presentation and see photos of mice through the ages by clicking here.