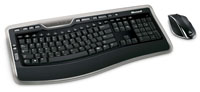 Microsoft has unveiled their latest keyboard design – the Wireless Laser Desktop 7000 (available in April).
The 7000 bundle includes a 2.4GHz wireless keyboard and the previously available 7000 wireless laser mouse. It was designed for Microsoft Vista and also features the Comfort Curve design, which provides a more comfortable and natural feel, facilitating healthier hand and wrist positions (also be sure to check out our "Healthy Computing Habits" blog entry for more related information).
Call us to pre-order!